Larnaca is an excellent location to host international scientific conferences. The town is large enough to give everything one may need but still is not overcrowded especially at its beautiful beaches which extend for 25 kilometres. The archaeological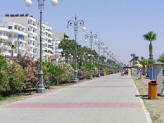 sites and its six museums are in the centre of the city within walking distance. Summer sports, sea activities and cruises are readily available. The shops are well stocked, medical care is excellent, its cinemas are screening films simultaneously with the cinemas of rest of Europe and the USA. The variety of restaurants, tavernas, cafeterias and bars is very great. The Cyprus "meze" is the food specialty of the town. Night life is interesting and security in the streets unsurpassed. Cultural life is rich and many events are organized by the town's Municipality almost daily.
Because of the mild climate in the winter and the genuine hospitality of the local people,
Larnaca enjoys tourism at very high occupancy rates all the year round. Larnaca with its wider area has nearly 10.000 hotel beds, about 10% of the total all island tourist capacity. Along the Larnaca bay there are luxurious beach hotels as well as hotel and holiday apartments of very high standard, at considerably lower rates than the hotel rates at other places of the country. Larnaca, being situated in small distance from other towns and tourist places, is the ideal base for exploring the island. The Larnaca International Airport, although it lies just a few kilometres from the centre of the town, the town itself is completely outside of the cone of landing and departing aircrafts.
more Larnaca